DINSE CONNECTORS - DINSE 25M / 35M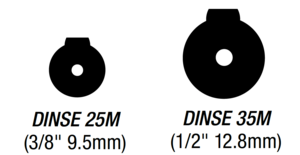 These are the industry standard gas-thru Dinse 25 and Dinse 35 used to connect TIG torches to your welding machine dependent on its functionality and the torch you are using. Refer to the charts below for the proper connector to match your machines setup.
Note: These connectors are for non-gas-thru dinse style machines—if you have any questions regarding which connector to purchase please call or email us for help.
DINSE 25M | DINSE 35M | LINCOLN | MILLER
LINCOLN
Miller
SQUAREWAVE
TIG 175
35M
INVERTEC
V160T
35M
SYNCROWAVE
180SD
35M
MAXSTAR
150STL
25M
TIG 185
35M
V205T
35M
200
35M
150STH
35M
TIG 200
35M
V111T
35M
210
35M



TIG 275
35M
ASPECT
300/375
35M
PRECISION
TIG 225
35M
ECONOTIG
35M
DINSE 25 | GAS COOLED
3/8-INCH | 9.5MM
| | |
| --- | --- |
| TORCHES | ORDER# |
| CK24, 80, 90, 100 | SL2-25M-24 |
| CK9, 17, 130, 150, FL130, FL150, MR70 | SL2-25M |
| MT100, CKC150, CK210, TL210, CKA16 | SL5-25M |
| CK26, TL26 | SL8-25M |
DINSE 35 | GAS COOLED
1/2-INCH | 12.8MM
| | |
| --- | --- |
| TORCHES | ORDER# |
| CK24, 80, 90, 100 | SL2-35M-24 |
| CK9, 17, 130, 150, FL130, FL150, MR70 | SL2-35M |
| MT100, CKC150, CK210, TL210, CKA16 | SL5-35M |
| CK26, TL26 | SL8-35M |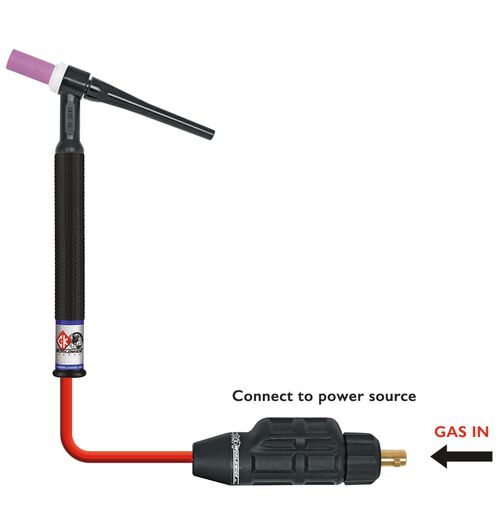 ---
DINSE 25 | WATER COOLED
3/8-INCH | 9.5MM
TORCHES
ORDER#
CK18, 20, 24W, 25, 180, 200
SLWHAT-25M
CKT200, CK230, CK300, TL300
CK510, CK24W, FL230, FL250
MR140, MT400, MT500
DINSE 35 | WATER COOLED
1/2-INCH | 12.8MM
TORCHES
ORDER#
CK18, 20, 24W, 25, 180, 200
SLWHAT-35M
CKT200, CK230, CK300, TL300
CK510, CK24W, FL230, FL250
MR140, MT400, MT500