ELECTRONIC WELDING HELMET
4 Sensors for out of position welding
High quality LCD and multilayer optical interference filter provide clear view and permanent UV/IR protection up to DIN 15.
Power supply by solar cells and Lithium batteries (replaceable).
Digital low battery warning indicator.
Mask made of high impact resistant special nylon.
Ample mask space, especially for ears and neck.
Adapter for plastic magnifying lens.
CE EN 379, ANSI Z87.1, CSA Z94.3
Standard 4-1/2" x 5-1/4" (11.4cm x 13.3cm) cover lens.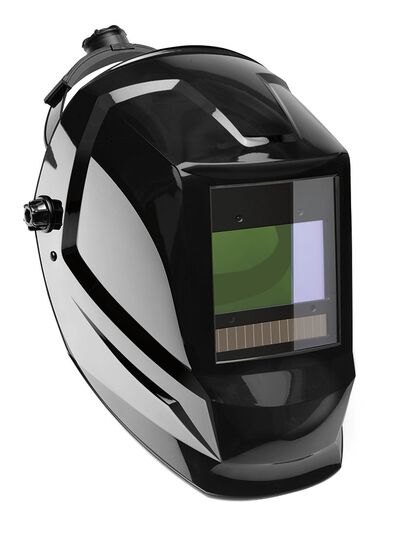 CARTRIDGE SIZE
4-1/2" x 5-1/4" x 3/8"
114mm x 133mm x 9.5mm
VIEWING SIZE
3.94" x 2.36"
100mm x 60mm
LIGHT STATE SHADE
4
DARK STATE SHADE
9 – 13
SHADE CONTROL
Internal and Digital
GRINDING FUNCTION
Digital
SENSITIVITY CONTROL
Adjustable
SWITCHING TIME
0.08 milliseconds
ARC SENSORS
4
WEIGHT
1.21 pounds
550 grams
WARRANTY
2 years